The Division of Finance and Enterprise Development today demonstrated its commitment to supporting and expanding the island's small and micro enterprise sector through the provision of an estimated $486,000 in loan and grant funding to small businesses.
Thirteen (13) small business clients of the Business Development Unit (BDU) operating primarily in the services sector were presented with cheques at a brief ceremony at the Victor E. Bruce Financial Complex. The assistance was provided as part of the Division's Enterprise Assistance Grant Programme (EAGP) and the Enterprise Assistance Fund (EAF); both facilities were created by the THA and are managed by the Division to establish a vibrant and competitive enterprise sector benefiting the island through increased revenue generating capabilities, increased employment and poverty reduction. Both EAGP and EAF allow access to capital which small businesses may not have been able to acquire through conventional channels.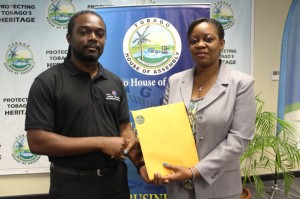 Bringing remarks on behalf of the Secretary of Finance and Enterprise Development, Administrator Mrs Claire Davidson Williams indicated that although the Division is constrained and like all other public sector organisations revising its budgetary allocation, it will continue to support the small and micro enterprise sectors to extent that resources allow. She congratulated the recipients on their endeavours and challenged
them to remain steadfast and focused and become great entrepreneurs and profiteers positively impacting Trinidad and Tobago.