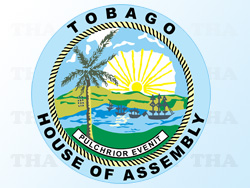 THA Secretary of Finance and Enterprise Development Dr Anselm London has said it was false for Minority Leader Ashworth Jack to say that the current YES (Youth Energised for Success) programme was an OJT (On the Job Training) programme.
.He said the statement by Jack was deliberately false and misleading and he ought not to do that, adding that at the formal launch of the programme three weeks ago it was made absolutely clear that it was not an OJT programme. "YES is not an OJT programme and the Minority Leader should know better and should not be engaged in this kind of political tomfoolery," he said.
Dr London further stated that Jack's claim that persons will be receiving $4,000 per month was far from the truth. "These are highly trained individuals in all kinds of fields, be they in finance, economics, business, engineering, sociology, mathematics, these are all graduates, people trained by the THA and for Mr Jack to take it upon himself to mislead the rest of the community about the wages paid and the type of programme, that is false," he added.
The Finance Secretary said the first 38 persons to be employed shortly will not receive $4,000 per month as claimed by the Minority Leader but some were going to receive $10,000 per month and upwards.
Dr London said Jack should know about the programme since it was discussed in the last THA budget presentation to the House of Assembly in June. It was also discussed at a seminar attended by youth and business organisations last September