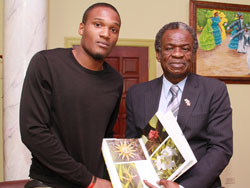 Double bronze medalist Lalonde Gordon paid a courtesy call on THA Chief Secretary Orville London yesterday (Wednesday 19th September 2012) almost a month after it was originally scheduled to take place.
The Tobago-born athlete was unable to make the call then because he was part of a motorcade that ended late into the night of August 21. He also did not attend a special reception in his honour to receive his award from Chief Secretary London.
As a result his grandmother Yvonne Gordon accepted the envelopes with $200,000 worth of Units from the Unit Trust Corporation and $100,000 in cash plus a first day cover of postage stamps on the occasion of the 50th Anniversary of the nation's Independence and $50,000 reimbursement to his family who attended the London Olympics.
Lalonde will be the first to own a plot of land next year at the Courland Estate and the establishment of the Lalonde Gordon Sport Development Fund with the main purpose of assisting Tobago's sportsmen and women. London said the THA will open the Fund with $1 million and will continue to make an annual contribution of $1 million. In addition the THA will match contributions dollar for dollar made by corporate organisations. London said he has already received pledges from three private sector organisations.
Lalonde who migrated to the United States at the age of 8 years in 1996 said he has always kept in touch with Tobago and was thankful to God for a successful season and to London and the Assembly for their contribution to his future development.
His advice to young Tobago athletes was to listen to their parents and coach, train hard and have faith in God.
Lalonde said he was on a break from school in New York and planned to pursue a course in sports management on his return.
London told Lalonde that the Assembly and all of Tobago were proud of his achievement and those of the other athletes. The Tobago Chief Secretary assured the young Tobago athlete that when he was no longer on the track the Fund will continue in his name. "This means that when you are no longer on the track you will still be remembered in Tobago as the person who would have been the catalyst for this Fund which I hope will facilitate other outstanding Tobagonians as they try to develop their potential," London added.
Secretary of Education, Youth Affairs and Sport Whitney Alfred and Assistant Secretary in charge of Youth Affairs and Sport Huey Cadette who were present at the meeting also extended best wishes to Lalonde in his future development.
Cadette who was present at the Olympics to see Lalonde's participation in the 400 metres and relay said the Division will continue to support the athletes.