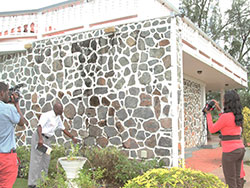 Refurbishment and upgrade of the official residence of the Chief Secretary of the Tobago House of Assembly (THA) will begin on Wednesday (27th November 2013) and will take six months.
Media representatives were taken on tour of the residence at Hamden, Lowlands on Tuesday (26th November 2013) to see the state of disrepair of the property over the 62 years of its existence. It was built in the early 1950s and occupied by a number of government officers. It was refurbished in 1994 and 2002.
The 90-minute tour was facilitated by senior representatives of the Assembly's OSHA Department and the Division of Public Utilities and Infrastructure (DIPU). Reporters were allowed to roam freely on the compound to see the condition of the residence.
The first stop was the grounds which had large pools of stagnant water among the bearing fruit trees. The perimeter fence of concrete and wire showed signs of rusting which Assistant OSHA director George Graham said will be replaced and the drainage corrected.
Also seen were cracks in the roof which leaked in several places, cracks in the walls and on the floor. Graham said a complete rewiring of the building and installation of water lines and fittings would also have to be done. He said the entire sewage system would have to be redone. Certain areas of the building are also to be extended.
Although works were officially due to start on Wednesday workmen from the DIPU had already removed water and electrical fittings, as well as air conditioned units.
DIPU Technical Officer Umslopagaas Job said the works will be done in house by the Division and was expected to be delivered by the end of March. Officers of the DIPU on the tour were unable to give an estimated cost of the works to be done.
The Assembly is currently renting a villa at $45,000 a month at nearby Tobago Plantations for Chief Secretary Orville London and his family as well as his household and security staff.