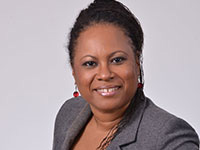 The Division of Community Development and Culture will launch Tobago Carnival 2014 next Friday, November 29th, at the Magdalena Grand Beach Resort.
Culture Secretary Denise Tsoiafatt-Angus said the Division wanted to lift the Carnival experience level on the island. She said the Tobago Festivals Commission had assured her the organisation was working hard to develop the schedule of Carnival events for the season.
Tsoiafatt-Angus told Wednesday's post Executive Council media briefing the Division was looking to strengthen those Carnival activities that were not previously well attended. "How do we strengthen those activities? Perhaps [by] collaborating with another activity that is strong, making it one activity and therefore you save costs in one area, but at the same time you improve the value of the offering."
The Division was also gathering input from Carnival stakeholders. "The Festivals Commission would have met with stakeholders Mas Fraternity, Pan Trinbago, and TUCO (Trinbago United Calypsonians Organisation), and they are awaiting their submissions as to what they would like to see in the Carnival season."
"The Mas Fraternity will be getting the registration from the various band leaders out there, in order that we can begin to distribute grants, and have them get started early," Tsoiafatt-Angus said.
She confirmed her Division's commitment to an early grant distribution by the end of this month. "I think it's the earliest that the grants have been ever distributed and as such, we would expect that the band leaders who will receive these grants would really consider working hard and getting their costumes out early. There's also the marketing of the costumes, not just depending on the grants to take them through the event of Carnival."
Tsoiafatt-Angus said the Division intended to build on the foundation of past Carnival experiences to make the event more beautiful.