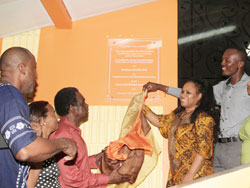 Chief Secretary Orville London on Sunday commissioned the Calder Hall Multi Purpose Community Centre on Calder Hall Road, Scarborough which was refurbished at a cost of $1 million to the Tobago House of Assembly (THA).
The centre is located within the Scarborough/Calder Hall electoral district represented by London. It is part of a $5 million development consisting of a Y Zone, Children's Play Park, lighted recreational facilities and the centre, all within a stone's throw of each other.
The refurbished centre includes a spacious auditorium, computer room fitted with ten desktop computers with the latest programs, kitchen, change rooms and wash rooms.
London said the community centre was not for one particular group and urged the groups in the community to make full use of its facilities adding that the return on the investment in this particular centre was the number of lives that were transformed and the number of groups that come together. He said the return on the investment would not be judged by the number of weddings that were held in the centre.
He said a community centre was not known for collaborating among the different age groups but this must change and therefore the people of Calder Hall must embrace change. "If you continue doing the same thing then we would have wasted our investment," he said.
London said the transformation of Calder Hall reflected the best Y Zone and the best play park in the island.
He was assisted in the commissioning ceremony by Secretary of Community Development and Culture Denise Tsoiafatt-Angus and Assistant Secretary Ancil Dennis.