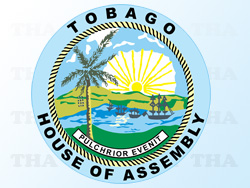 Chief Secretary of the Tobago House of Assembly (THA) Orville London has refuted what he considered an effort made by Tobago East MP and Minister in the Ministry of the People Vernella Alleyne-Toppin and the Central Government to take full credit for the T&TEC 64 MW power plant at the Cove Eco-Industrial and Business Park.
London recalled that the plant was commissioned in October 2009 by former prime minister Patrick Manning and himself. He said it was designed at that time to use diesel fuel and natural gas.
London told Wednesday's post Executive Council media briefing that the power plant was built at a cost of $300 million while the National Gas Company (NGC) invested $1.1 billion on the gas transmission line from BHP Billiton field 25 miles east of Trinidad to Cove and an additional $300 million on the gas processing plant.
He said he was therefore quite surprise to have received an invitation from the T&TEC General Manager to attend the commemorative ceremony for the overhaul and natural gas commissioning of the facilities.
He said what was even more interesting was a clip he saw on the local television channel where Alleyne-Toppin indicated to the people of Tobago that one of the reasons why she was at the function was to let them know the kind of contribution she was making to bring benefits to them.
"I think that she might not know that the people of Tobago are not short sighted nor are they feeble minded. The people of Tobago would know that that facility which she is claiming is a facility that was delivered to the people of Tobago more than five years ago under the previous PNM administration," the Chief Secretary said.
He recalled that under the previous administration and on the insistence and recommendation of the THA the gas line was laid between the BHP Billiton field in Trinidad and Cove and then a processing plant was also commissioned. "In other words it is all of those three things coming together, close to $2 billion worth of investment that would have culminated in what was in fact a switch over from diesel to natural gas, that is all it was," he added.
London said he was not saying that one should not attempt to take credit where credit was due but one should not attempt to falsify history in order to make political mileage. He said he was very comforted that all that planning and all that expenditure would have come to fruition and would have course bring benefit to generations of Tobagonians where they could have affordable and most importantly reliable electricity and reliable energy available to them.
He expressed concern that he had received an invitation on Monday for the function on Wednesday but the error was only discovered on that day.