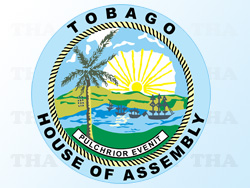 In continued efforts to enhance good working relationships, His Excellency, Humberto Rivero Rosario, Ambassador of the Republic of Cuba and his three member team paid a courtesy call to Assemblyman Claudia Groome Duke, Secretary of the Division of Health and Social Services on Friday June 28th, 2013. The delegation also met with the Board of Directors and Management of the Tobago Regional Health Authority (TRHA).
His Excellency was also given a tour of the Scarborough General Hospital by the Medical Chief of Staff, Dr. Nathaniel Duke and had the opportunity to meet some of the Cuban nationals working at the Hospital. His Excellency noted he was pleased with the treatment of the Cuban medical professionals by the Tobago House of Assembly (THA) and the TRHA and pledged that his government is committed to providing assistance to the THA and TRHA in the areas of technical skills, clinical manpower and training as may be required.
In response, Secretary Claudia Groome Duke thanked His Excellency for the great contribution his country has given to the benefit of the people of Tobago and pledged continued collaboration between them.
Currently, there are two (2) doctors and fifteen (15) nurses from the Republic of Cuba working in the Health Centres and at the Scarborough General Hospital through an agreement with the Ministry of Health and the Republic of Cuba.