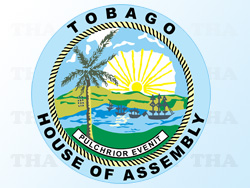 The funeral of Tyrone Crawford has been tentatively set for Friday June 14th as his family awaits the arrival of relatives from overseas. Mr. Crawford was electrocuted on the Shaw Park compound of the Division of Infrastructure and Public Utilities on Wednesday June 5th.
DIPU Secretary Hilton Sandy updated the Division's staff on the efforts to assist Mr. Crawford's family during a brief memorial service at the CO Scarborough Facility Hall on the Shaw Park compound at 7:30 this morning (Friday June 7th). In attendance were some of Mr. Crawford's colleagues and other members of staff.
Mr. Sandy offered condolences to the staff and indicated that the DIPU's Furniture Workshop will craft a coffin for Mr. Crawford, while staff of the Scarborough District will prepare the grave site and the Division will provide chairs and tents for the funeral as well as support the family during the wake.
The DIPU's Assistant Secretary Handel Beckles initially led the staff in a rousing rendition of "When we all get to heaven", then he shared briefly from the Book of Revelation Chapter 21, verses 1 to 4, telling the staff that we should all look forward with hope to a bright future when there will be no more pain. Prayer was then offered up for Mr. Crawford's family and colleagues.
Thirty four (34) year old Tyrone Crawford was electrocuted as he stood touching the wing mirror of a dump truck while the driver, who was sitting in the cab, raised the tray of the truck which then came into contact with an electrical live wire.
Investigations are ongoing by the DIPU's Safety Officer, the Trinidad and Tobago Police Service and the Trinidad and Tobago Electricity Commission, while counselling has been provided to Mr. Crawford's relatives and colleagues by the Division of Health and Social Services.
Mr. Crawford was a father of two and was employed at the DIPU as a lorry loader for the past twelve (12) years.