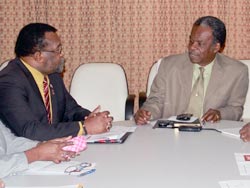 TTconnect Express services are coming to Tobago within the next two to three months, Chief Secretary Orville London disclosed after a meeting with Minister of Science and Technology Dr Rupert Griffith on Monday. (11th March 2013)
London said the THA was giving its support to the service because it was something which had the potential to bring significant benefits to the people of Tobago especially those in the outlying areas.
He added that the emphasis will also be placed on ensuring that this service was synchronised with similar services under the auspices of the THA so that it could enhance the delivery to the people of Tobago.
He said it was recognised that there were a number of services both from the Central Government and from the THA that were not necessarily well-known as it should be and in fact people do not always derive optimum benefit from them. "The potential this initiative has in conjunction with the other initiatives of the THA is enhancing the capacity of Tobagonians with respect to the whole question of information technology and all that that entails because there is going to be a training aspect to it," he added.
London said it was hoped that persons in the over 45 age group would be encouraged to take advantage of all the opportunities.
Griffith said the meeting started a collaborative process for ttconnect Express to come to Tobago. He said the ICT-based centres will be fully loaded service areas and emphasis will be placed on the rural communities.
He said the THA will be assisting his Ministry in identifying all of the locations to make these centres available.