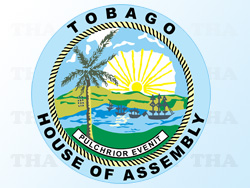 The Inter-American Bank (IDB) has allocated US$100,000 to fund a renewable energy programme for Tobago, Natasha Marzolf who heads the bank's team on renewable energy has disclosed.
Marzolf, other representatives of the IDB based in Port of Spain and Spain as well as senior officials of the Ministry of Energy and Energy Affairs spent the day in Tobago last Friday for a meeting with THA representatives led by Chief Secretary Orville London and to visit proposed sites for sustainable energy projects.
During the meeting London proposed solar lighting on the islands of Little Tobago and Goat Island off Speyside in east Tobago. Consideration was also given for the use of solar energy to provide hot water at the new Scarborough General Hospital and for electricity at the Speyside High School.
He said once the projects were decided upon and the cost arrived at, the Tobago House of Assembly would commit itself to partially funding the programme. The Energy Ministry's representative said the Ministry would collaborate to make the programme a success.
London said there was a particular challenge in Trinidad and Tobago where the whole concept of renewable and sustainable energy was concerned because there was less expensive or more affordable energy supply the economic argument or the financial considerations that would be very potent in other countries might not be as potent in Trinidad and Tobago and therefore something should be selected to which people could at least start relating.