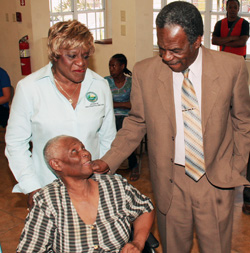 The nine-month-old Yahweh Foundation came in for high praise for the work its members and volunteers were doing among children and the aged in the Buccoo community.
So impressed was Chief Secretary Orville London he promised its members on Friday to send in Secretary of Health and Social Services Assemblyman Claudia Groome-Duke; Secretary of Community Development and Culture Dr Denise Tsoiafatt-Angus and her Assistant Secretary and area representative Ancil Dennis to familiarise themselves with what they were doing and to use the experience as a pilot project for other communities.
London visited the Foundation members and volunteers at work at the Buccoo Community Centre on Friday. (8th March 2013) He heard from its President Penelope Camps that members met on Wednesday and Friday to provide assistance to the aged in various fields, as well as assisting some 30 pupils of the nearby Buccoo Government Primary School with their homework. The pupils are also taught handicraft, drumming and singing.
In a brief address Chief Secretary London told Yahweh members and volunteers that he considered his work stressful but "sometimes I get a feel good moment" and this was one of those moments. He said he was surprised at the number of senior citizens participating in the Foundation's programmes.
He said regard for senior citizens were disappearing and "sometimes we do not show enough respect to them". He added that the first responsibility of the Assembly was to recognise what was being done and to support it and that was why he would arrange for the Secretaries to visit them.
"It is a model that is worth investigating. What you are doing is making senior citizens feel they are people too. This is my feel good moment and I hope you will take it to the other communities," London added.
London said one of the Foundation's members Faith Solomon of Miller Street Buccoo visited him on one of his office days for the public during which she "instructed" him to make sure he came to the Friday meeting and to "bring along a wheelchair" for her.
The chief secretary brought along the wheelchair and presented it to her on behalf of Secretary Groome-Duke and the people of Tobago.