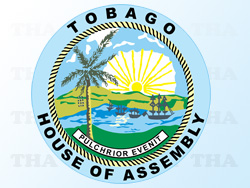 The Tobago House of Assembly has been given the assurance that the woes at the ANR Robinson International Airport will be addressed in the near future.
Minister of Transport Stephen Cadiz met with Chief Secretary Orville London and other THA representatives on Friday (February 20, 2015) at Administrative Complex, Calder Hall, regarding a list of transportation-related issues, including the airport terminal, the proposed Eastern Caribbean Ferry Service from Trinidad to Grenada, the bus terminal facilities in Tobago and a lack of PTSC buses running on the island.
Cadiz acknowledged that the ongoing, multi-million dollar refurbishment of the ANR Robinson International Airport terminal building may not provide additional space for users. He described the current airport facility as "cramped".
"There is concern whether or not the refurbishment would give us additional capacity, additional space; we are cramped in both the arrival and departure lounges, especially in the international departure and arrival," Cadiz stated.
The Minister said he will return to Tobago next Friday with architects to see what is being done and what changes they have proposed for the terminal building. He added that he was aware that international carriers want a lounge for their first-class passengers, as well as larger check-in areas.
"We are looking at improving the departure and arrival areas for both international and domestic flights," Cadiz said.
The Minister said the original time frame for completion of the project was ten months but will he will use next week's visit to determine whether this can be achieved.