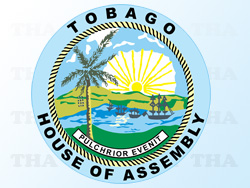 The Eastern Caribbean Ferry Service will be put on the back burner so priority can be given to improving Trinidad and Tobago's inter-island ferry service.
Both Tobago House of Assembly (THA) Chief Secretary Orville London and Minister of Transport Stephen Cadiz confirmed this today (February 20, 2015) at a media conference at Administrative Complex in Calder Hall, Tobago immediately following their meeting.
London said the proposed expansion of the current ferry service had potential but insisted it must not come at the expense of passengers between Trinidad and Tobago.
"Basically, the potential of that Eastern Caribbean Service was recognised," London explained, "but in the circumstances, it was agreed that the sea bridge must be given priority and the issues facing Trinidad and Tobago must be our focus until such time as the circumstances change.
"I'm happy that we were able to come to some consensus on that, and of course efforts are going to be made, I'm certain, to improve the reliability on the sea bridge even further so that we can derive optimum benefit."
London also stated that Tobago will be looking to maximise the potential of the Trinidad market, which he said was one of the "major engines for the recovery of Tobago's tourism sector in recent years".
Speaking on the ferry issue, the Transport Minister said he did not want to jeopardise the security and reliability of the inter-island route, on which his Ministry will now put "100 percent of our emphasis". He added that any further discussions on the Eastern Caribbean Ferry Service will be shelved until the highest reliability of the service can be guaranteed.
Said Cadiz: "The (T&T ferry) service runs well. The on-time service of the sea bridge is good. It is acceptable. Of course, there is always (room for) improvement. The current fleet of ferries that we have is starting to age and therefore we would need to secure that reliability on the Tobago run first before we look at any expansion to any other parts."
Cadiz also indicated that sourcing a third ferry is an option his Ministry is currently looking at. He stated that he would have to meet with stakeholders, including the THA, to determine the needs of those who use the ferry and discuss whether an additional vessel is required.
The Minister also assured Tobagonians that both ferries will be up and running for Jazz Experience, which is scheduled for April 18-26.
One of the ferries, the T&T Spirit, is currently running on three of four engines, and Cadiz stressed that repairs will be made soon.
"That is being worked on now," Cadiz revealed. "We have already done the survey on the engine, the necessary spares are being procured and we will have that engine (fixed). The beauty of that engine is that (repairs) can be done while the ferry is in operation. We don't have to dry dock the ferry to have that done. "