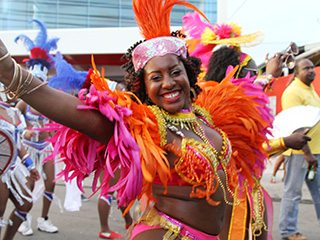 This year's Carnival proves you don't need bacchanal to have a good Carnival, says Secretary for the Division of Community Development and Culture Denise Tsoiafatt-Angus.
Earlier this week, police reported that there were only two incidents of note for Carnival in Scarborough. There were no such reports at Roxborough or Crown Point.
At Wednesday's (February 18, 2015) post Executive Council media briefing, Tsoiafatt-Angus said 2015 Carnival "has proven that Tobago's Carnival is not just alive and well, but thriving nicely".
The Culture Secretary also revealed that the number of spectators, as well as tourists playing mas on Carnival Monday and Tuesday has increased. Kiddies Carnival (14 February) too enjoyed an upturn "with over 800 masqueraders".
"The bands showed growth with the increasing numbers of young people and children in costumes," Tsoiafatt-Angus said, who described the quality of the mas as "undisputedly elevated".
Tobago's pan also made an impact, with 11 bands qualifying for the national semi-finals this year, of which six reached the finals, a first for the island. An unprecedented ten calypsonians also made it to the national semis.
Tsoiafatt-Angus congratulated those calypsonians, as well as the medium bands who participated in the 2015 Panorama finals, including second-placed NLCB Buccooneers, NGC Steel Xplosion (third place) and Petrotrin Katzenjammers (fifth place).
During the briefing, Chairman of the Windward Carnival Committee Julian Celestine echoed the Secretary's sentiments of a positive Carnival season.
"Carnival 2015 was a tremendous success for us on the Windward side of Tobago," he said, adding that 13 schools participated in the Junior Extravagant (11 February, 2015), compared to nine schools last year.
Tsoiafatt-Angus said there was more collaboration between stakeholders, including the Tobago Festivals Commission and the Tobago Carnival Committee, and her Division. She commended stakeholders on their "willingness to work together to nurture the potential of Carnival in Tobago".