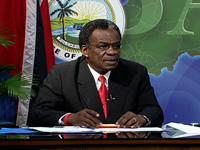 Chief Secretary, Orville London has expressed confidence that the Tobago landscape will be restored within the shortest possible time, following the damage sustained in the aftermath of tropical storm Tomas.
London said that he was impressed by the commitment and professionalism of the response agencies and the resilience of the Tobago residents. He noted that, because of the contributions of the decision makers and the workers at the Tobago Emergency Management Authority, the Division of Infrastructure and Public Utilities, the Division of Health and Social Services, the Unemployment Relief Programme (URP), the Police and Fire Services, the Defence Force, TTEC, TSTT and other units, the main roads were cleared for vehicular traffic within twenty-four hours; there was minimal disruption of telephone and electricity service; relief was brought to the emergency cases and significant progress was made on the clearing of secondary roads and private entrances.
The Chief Secretary was also high in praise of the 2-1-1 Information Centre, TSTT and Digicel for their roles in ensuring that appropriate information was disseminated in a timely manner. He also commended Assemblymen Hilton Sandy, Tracy Davidson-Celestine and Claudia Groome-Duke, representatives of the most affected areas; the Secretaries and Assistant Secretaries in the Divisions of Infrastructure and Public Utilities and the Division of Health and Social Services; and the Chief Administrator, the public servants and contract officers who worked and continue to work long hours to bring relief to the affected communities.
London said that one of the most heartening aspects during this challenging period was the response of the Tobago residents who displayed courage, camaraderie, community spirit, determination, even good humour, in the face of adversity.
He noted that, because of the combined efforts of divisions, agencies, groups and the Tobago public, the situation was under control. However, London stressed that all concerns and relevant information should be reported to the Tobago Emergency Management Authority (TEMA) which has the capacity to evaluate the information and relate to the divisions and agencies with the responsibility to take appropriate action. London also said that it was essential that all agencies, even those under the Central Government, should collaborate with the Office of the Chief Secretary in the process of providing assistance to the affected individuals and communities. London said that if this were not done, there could be duplication of effort, inefficient utilization of the available resources and the fuelling of a perception that agencies are competing against each other rather than coordinating activities and programmes during this critical period.