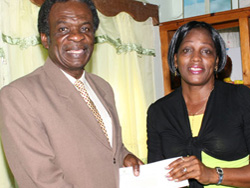 Chief Secretary Orville London, today (Tuesday) presented a cheque valued $125,000.00 to Mrs Susan Phillips-Jack, owner and operator of the Sylphil Home of Love for the construction of a new home, at Pascal Village Trace, Lambeau. This is the first of the $300,000.00 contribution from the THA's Office of the Chief Secretary to the project, with the second tranche to be presented at a later date.
The Chief Secretary noted that the donation is an investment in the future of disadvantaged youths, as he commended the operators of the Home for their love of children, sacrifice and ambition. He said: "They have invested time, effort, resources – limited resources in many cases and they have been able to make a significant difference in the lives of a lot of children".
Overwhelmed with emotion, House-mother – Mrs Phillips-Jack expressed her gratitude for the monetary contribution and specially thanked the Chief Secretary for his show of interest in the Home and children, over the years.
Persons who wish to contribute towards the construction of the Home can contact 639-2844, or 757-0796.