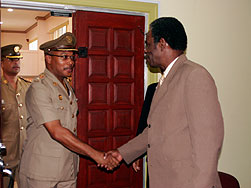 Newly-installed Commandant of the Trinidad and Tobago Cadet Force, Lt Colonel Patrick Taylor, paid a courtesy call on Chief Secretary Orville London at his Calder Hall office this morning. Taylor was accompanied by his second in command, Deputy Commandant Lt Colonel Ellis Robinson, who most recently held the post of Battalion Commander of the Tobago arm of the Cadet Force.
During his discussions with Chief Secretary London, Commandant Taylor indicated that one of his major goals was to amplify the scope of the Trinidad and Tobago Cadet Force, with special focus to be placed on music and medical training, which would enable the young members of the Cadet Force to obtain qualifications equivalent to a four year period of study. Taylor stated that this initiative, amongst others, was aimed at attracting young people to join the Cadet Force, as well as increasing the options available to its current members. At present, the Tobago battalion of the Cadet Force comprises two hundred and seventeen (217) members, of which thirty-nine (39) are adults.
Lt Colonel Robinson, who is only the second Tobagonian to reach the level of Deputy Commandant, expressed his appreciation to the Tobago House of Assembly for the assistance given to the Cadet Force in Tobago over the years.
In response, Chief Secretary Orville London praised the objectives of the Commandant and reiterated the continued support of the Tobago House of Assembly to the Cadet Force and the development of young people in Tobago.