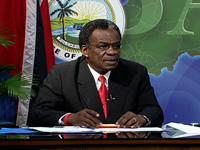 Former Attorney General Russell Martineau SC is preparing the draft Tobago Assembly Bill which will soon be available for public comment, Chief Secretary Orville London has disclosed.
The Chief Secretary said contrary to public sentiments expressed by some critics, the views, recommendations and concerns of all the individuals and groups in Tobago will continue to instruct the process with respect to the "Revision of the Tobago House of Assembly Act No. 40 of 1996 and the Reform of the Constitution" by the John Prince Committee.
In giving an update on the process, Mr. London said the Report of the Committee also confirms that relevant reform to the Constitution of Trinidad and Tobago must be an integral part of the process and that the Committee has worked and will continue to work assiduously towards the fulfillment of its mandate.
"I cannot over emphasise the importance of the next phase when the Draft Bill will be available for public comment and I invite all Tobagonians to participate in the discussions as we collaborate in crafting a document which will reflect the aspirations of Tobagonians for the level of governance which will afford them optimum control of their own island," Mr. London said.
Other members of the John Prince Committee which was appointed in October 2007 are Dr. Rita Pemberton, Dr. Eastlyn McKenzie, Mr. Carlos Dillon and Mr. Arthur Gray. In compiling its Report, the Committee met with approximately 40 villages across the island of Tobago; special interest groups including the Tobago Forum for Consensus on the Constitution, the Tobago Chapter of the Chamber of Industry and Commerce; individuals such as former President of the Republic Sir Ellis Clarke, former President and former Prime Minister Mr. Arthur NR Robinson; and representatives of the People's National Movement and the Tobago Organisation of the People.
The Committee unsuccessfully requested meetings with Prime Minister, Mrs. Kamla Persad-Bissessar; Leader of the Congress of the People, Mr. Winston Dookeran; Leader of the Opposition, Dr. Keith Rowley; Professor Selwyn Ryan; and the Presidents of NATUC and FITUN. A communiqué to this effect was cosigned by Mr. London and Minority Leader Ashworth Jack.
The terms of reference of the Committee were to Review the THA Act No. 40 of 1996; Review of the Constitution of Trinidad and Tobago with special reference to a Tobago position on Constitutional Reform; Organise a programme of activities including extensive information- sharing, information-gathering and reporting on matters under review; and prepare a comprehensive report including evaluation and recommendation to inform the process and guide the Special Select Committee of the THA in its deliberations and final reporting.