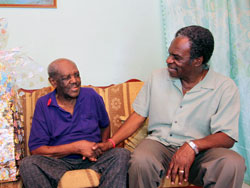 Chief Secretary Orville London today (Wednesday, November 10 2010) presented hampers to the three surviving World War II veterans in Tobago – Major William Herries, Comrade Josey Eastman and Comrade Michael A. Hector. The Chief Secretary's visit coincides with the anniversary of the signing of the Armistice, which ended World War I ninety-two (92) years ago.
Comrade Josey Eastman said that the present THA has been the only Administration to show appreciation to the veterans in this way and he expressed heartfelt gratitude to the Chief Secretary and the Tobago House of Assembly.
Quite elated by the token, 89 year old war veteran Michael Hector quoted: "Praise God from whom all blessing flow".
Mr London said: "Over the years we have honoured our veterans on Remembrance Day. This year we did some introspection and thought that there is a need to honour them in an individual and special way".
The Chief Secretary further said that the show of appreciation is not only because of the veterans' sacrifice during the war, but also for their contributions to their country in the ensuing years.
The veterans will be further honoured at the Remembrance Day Ceremony, at James Park on Sunday, November 14, 2010.