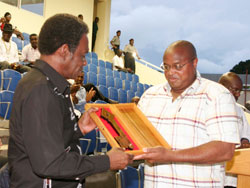 The $112 million Buccoo Integrated Facility was commissioned on Sunday in grand style with a packed all day programme.
The public was treated to free tours to the internationally famous Buccoo Reef from as early as 9 a.m. while the young ones had a great time at the Children's Fun and Games Village. There were four hours of goat racing, an event Buccoo is famous for worldwide before the official commissioning by Chief Secretary Mr. Orville London. The day also included a cultural programme involving mainly residents of Buccoo and the well-known Sunday school with Ballroom dancing topping off the night. Twelve awards were also presented to Buccoo icons and two organisations.
In delivering the feature address Mr. London observed that this was a project which many skeptics believed could not come to fruition and thanked Finance and Enterprise Development Secretary Dr. Anslem London who conceptualised the project and took an interest in its construction. He said the project stemmed from a long lust desire for a proper facility for goat racing and other activities.
He said the performance of the project managers, the State-owned National Maintenance Training and Security Company Limited (MTS) in delivering the project within budget and on time had restored his confidence in the construction industry. He added that this should be the standard other companies in the construction industry should strive to achieve.
Mr. London also thanked members of the Buccoo community for their input and cooperation, adding that it was not a THA facility, but a facility for the people, both local and foreign to enjoy.
He recalled that an application for a loan from the Caribbean Development Bank (CDB) was taking too long, resulting in the Assembly deciding to use its own resources. "We do not owe one cent on this facility," he stressed.
Representative for the area Albert Pilgrim said the residents of Buccoo had waited for a long time for the facility and was grateful to those who laid the foundation for it. Alluding to the adverse comments about the facility by Tobago West MP Dr. Delmon Baker, Pilgrim invited him to visit it to see the final product . He said the feedback from throughout the world was that this was a first class facility.
Besides the goat racing track, the facility has two covered stands for spectators, a reception and information tower, museum, craft booths, restaurant and bar, stables and car park.