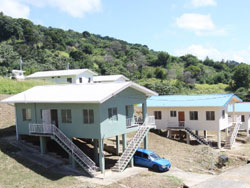 The majority of qualified recipients will get their housing units from the Tobago House of Assembly (THA) for Christmas, Chief Secretary, Mr. Orville London and the Secretary of the Division of Settlements and Labour, Assemblyman Whitney Alfred have promised.
The two said the distribution of the 170 housing units in Blenheim, Castara and Adventure will begin by month end and hopefully the exercise will be completed by the middle of December.
The Chief Secretary and Assemblyman Alfred were speaking at the end of a tour of the three housing projects.
Mr. London said he was "confident that we can bring closure to these three projects that have been on the drawing board for a very long time and really created a lot of frustration for us". He said based on the discussions he had and what he had seen, 90 per cent of the houses were ready for occupation and felt confident that most of the houses will be distributed by December 14.
The Chief Secretary added: "Except we bring closure to this delivery aspect it places us in a position where we cannot spend as much time as we could in now focusing on the next phase of development and delivery."
He said very early in the New Year the Assembly will be in a position to provide the people of Tobago with some details of the next phase of development.
He said a significant amount of money has been invested in the houses and therefore the Assembly has to balance the need to satisfy all the applicants, with the need to ensure the funds of the Assembly were utilised in the most responsible manner. He said all of these houses even at the present prices were heavily subsidised to the tune of hundreds of thousands of taxpayers' money, money from the people of Tobago.
"I want to indicate that these settlements are funded exclusively and I want to repeat exclusively from the funds of the THA and the only reason we have been able to do this is because we have been able to utilise the funding that have been made available and a significant percentage of our unspent balances have to be ploughed into this, so we have to be very careful that we don't take the thing to the limit where the subsidy becomes unbearable.
"What I think that we are going to be looking at is in our next phase that we really focus some more on building houses that are more affordable.
Assembly is hoping to begin construction of an additional 64 town houses, 120 apartments and duplex units in the second quarter of 2011 at Adventure.