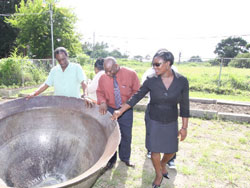 The $4.5 million Pembroke Heritage Park will be commissioned at the end of November, according to Community Development and Culture Secretary, Assemblyman Tracy Davidson-Celestine.
The Park is the brainchild of the Pembroke Village Council which won the $200,000.00 prize on winning the Prime Minister's Best Village competition in 2003. The Park consists of a covered circular stage, dressing rooms, administrative building, mini cocoa house and dirt oven. Bleachers are to be erected for patrons to view cultural shows.
Chief Secretary Mr. Orville London along with Davidson-Celestine and Chairman of the Pembroke Village Council, Wendell Berkley visited the Park last week for an update on the work being done.
Berkley said before embarking on the project, four consultations were held with the community to determine what should be done with the prize money. He said community heritage projects will be part of the operations at the Park, adding that a "Glory Board" will be installed to sensitise people of the persons who would have contributed to the community.
Mr. London who visited the Park in its construction stage some months ago said he was very heartened and excited by what he had seen. He said: "A lot of progress has been made and I think we have something the people can in fact feel fairly comfortable with and still feel the link between them and the past. Obviously some concessions had to be made but I think they have done a fantastic job. There is a lot of scope for improvement and of course enhancement as we try to make it as effective as possible."
Mr. London took the opportunity to commend Assemblyman Davidson-Celestine and Mr. Berkley who was a former Assistant Secretary and the former representative for the area. He said it was Mr. Berkley in his capacity as one of the livewires behind the Pembroke Community Council and the Pembroke Heritage Performers that had the very ambitious vision and idea.
Assemblyman Davidson-Celestine said the Park will be managed by a Board of Management comprising members of the Division and the community. She said the Board will have the responsibility to plan the different activities, bearing in mind the recreation of the heritage of Pembroke.