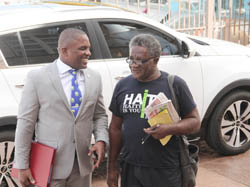 The Tobago House of Assembly (THA) wants $4.95 billion to run the affairs of Tobago in fiscal 2014. In addition it has budgeted $70 million for the Unemployment Relief Programme (URP).
Details of the Assembly's budgetary requirements were presented at Monday's (June 24 2013) sitting of the House of Assembly in a 55-page document delivered in just under three hours by new Secretary of Finance and Enterprise Development Assemblyman Joel Jack.
The largest chunk of the budget will go to the Division of Health and Social Services – $845.7 million followed by Education, Youth Affairs and Sport – $536.2 million.
In his maiden budget address, Jack told the House that the theme "Responding to the People's Mandate" was in recognition of the duty bestowed upon the administration in the January 21 Assembly elections in which it won all 12 seats. "As the people's servant leaders and against the background of the clear mandate given to the People's National Movement in the last election, we are aware that we have a special responsibility for and an unwavering commitment to openness, transparency and accountability in government" Jack added.
He said revenue and financing of the 2014 expenditure estimates will rake in $154.6 million, hardly a match for the recurrent, development programme and other expenditure requirements of the Assembly in fiscal 2014. To resolve this question will not lead to a discussion of the Dispute Resolution Commission (DRC) formula for Tobago, a formula that has not been revisited in over ten years; that has never adequately addressed, nor does it address, even more so now, Tobago's development needs.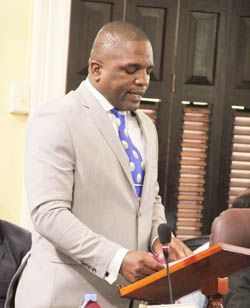 Jack said given that all the time there was a supplementary budget in the course of the year, the actual national budget was usually higher than the amount that was voted at the time of reading of the budget, usually in October of each fiscal year, but the THA has seldom been given any of the supplementary allocation.
"This administration says that it is time to put an end to the chicanery and arithmetic and accounting slight-hand. The people of Tobago cannot entrust their development to some magic minimalist percentage formula," he added.
Jack said: "Tobago has long gone past the mind-set of a lowly mendicant – meek and mild and well contented and well-behaved in its island-ward status. Neither pauperism nor mendicancy has ever been, or is now, part of Tobago's heritage."
Among those in the public gallery to listen to Jack's maiden budget address were his father James Jack, mother Marilyn Austin, sister Deirdre Jack and aunt Cecile Beckles.