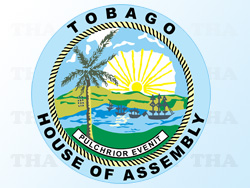 Chief Secretary Orville London is currently preparing proposals on the process to be used for granting internal self governance to Tobago.
These proposals will be forwarded to Prime Minister Kamla Persad-Bissessar by Wednesday, London told the media at a press briefing in a committee room of Parliament on Friday. (June 21 2013)
He earlier had an hour long meeting with the Prime Minister and Housing Minister Dr Roodal Moonilal to discuss this and other issues relating to Tobago. The meeting was the second for the year as part of their commitment to holding quarterly "non-crisis" meetings to discuss issues affecting Tobago.
Both leaders agreed on the granting of self governance to Tobago but were unsure of "the how" to achieve this.
Persad-Bissessar said her government will consider the proposals by the Chief Secretary as to a possible way forward, in which he asked for the principles of the Dispute Resolution Commission as stipulated by the THA Act be used to arrive at some kind of resolution to the issue.
"The Prime Minister has agreed to flesh out the document, which I will present to her with the hope that it will get a positive reaction. It is a process which involves both the THA and central government putting their positions on the table to be discussed and an agreement reached," London said.
He added: "Our concern is that the issue must not reach the Parliament in an adversarial environment where somebody has to win and somebody has to lose. We must be committed that, at the end of the exercise, the objective is achieved.
In their discussion London said he strongly defended Tobago's position that the issue not become subsumed in the current constitutional reform exercise. "I have expressed to the Prime Minister how strongly Tobago feels about internal self-government not to be part of constitutional reform," he added.
London expressed concern about the manning of coastal waters, inlets and bays in Tobago and the surveillance and protection of the waters surrounding the island.
Persad-Bissessar said in this regard he advised London that CCTV cameras on the land have been restored across Tobago, and the radar was fully operational, which would assist both on land and the coast.
The Prime Minister also disclosed that the government was seeking to purchase four new interceptor vessels at a cost of $21 million from local manufacturers to patrol the waters around Tobago to stem the flow of drugs and illegal activities. In addition 12 Coast Guard interceptor vessels, which were in a state of disrepair, were to be refurbished to be used in the fight against crime around the country's coastal waters, including Tobago.
Moonilal said Finance Minister Larry Howai and himself will meet with London in July to discuss funding for the Assembly's housing programme.