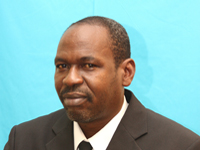 Tobagonians do not produce enough food for its residents. In fact Secretary of Agriculture, Marine Resources, Marketing and the Environment Gary Melville told reporters on Wednesday (February 8 2012) that "food security in Tobago is a challenge."
Melville said the Tobago House of Assembly has taken up the gauntlet and has been undertaking a number of initiatives to develop the island's agriculture sector. He said the Assembly has been partnering with the Inter American Institute for Cooperation in Agriculture and the United Nations Food and Agriculture Organisation to develop a Tobago agriculture sector plan and policy to be used as the basis for developing the plans and programme for the 2013 budget for the Tobago agriculture sector.
He said his Division last Friday (February 3 2012) launched a home gardening programme in the island's schools, adding that schools without a garden would be encouraged to develop one. He said the theme of this initiative was "Healthy Eating, Affordable Living – Plant, Grow Live."
He said officers of the Division will also be going out to communities to encourage householders to develop such a garden in their backyards.
Melville said his Division was partnering with the island's pig farmers to increase pig production since Tobagonians eat a lot of pork; feed will be subsidised and farmers will be paid $11.44 a pound for pork up from $8.00 a pound. "It hurts my heart to see large quantities of pork coming in from Trinidad and the United States," Melville said.
He said a new design for pig pens was being developed and will be offered to farmers, while other livestock and poultry farmers would also be encouraged to increase their production.
Melville said by the end of this year there would be 12 landing sites to serve the island's fisherfolk. He also congratulated the Tobago Agricultural Society on their initiative to supply local produce to the Magdalena hotel.