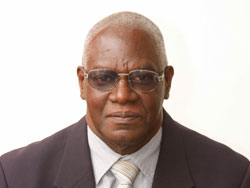 Caribbean Airlines (CAL) has been accused of neglecting pleas by the Tobago House of Assembly (THA) for connecting services with international flights in an effort to boost Tobago's ailing tourism sector.
Secretary of Tourism and Transportation Assemblyman Oswald Williams told reporters at Wednesday's post Executive Council media briefing that the situation was so bad that he again wrote Transport Minister Devant Maharaj earlier this week seeking a meeting to discuss the issue.
Williams said CAL continues to neglect the pleas of the Assembly through letters and telephone calls for a meeting to put their case before the national airline which was being heavily subsidised by the taxpayers of Trinidad and Tobago. He has not even received an acknowledgement to his letters.
He said CAL recently introduced connecting services between Barbados and St Lucia and Barbados and Grenada. He said he had earlier requested a meeting with CAL executives to discuss a connecting flight between Barbados and Tobago for tourists on a fortnightly charter service from Scandinavia who wished to come to the island. He added that the airline had reserved 30 seats on its aircraft for Tobago bound passengers but because of a lack of same day connections it was forced to give it to St Lucia.
Williams stressed that there must be some level of connectivity of services to support tourism. "A lot of connectivity is taking place in the Caribbean by our national airline but Tobago is not benefitting," he said.
He said Trinidad and Tobago taxpayers through CAL were also supporting tourism in Jamaica with its services from North America. He said the Assembly had to put up a struggle to get the once weekly CAL New York service to Tobago. "Our investigations showed that North American tourists spend three to four days at a destination and therefore a second service at mid week would serve them well," he added.
Williams said: "Tobago is part of the nation of Trinidad and Tobago and therefore should be given consideration, charity must begin at home."