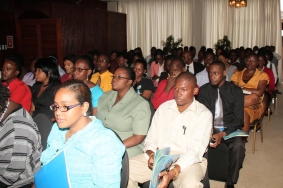 The Tobago House of Assembly (THA) has reallocated $20 million to address the employment and other challenges of Tobago's young professionals, Chief Secretary Orville London disclosed on Thursday (9th February 2012 at the close of a one-day Young Professional Opportunities Forum at the Mount Irvine Bay Hotel, Tobago.
The Forum was inspired by the Assembly's recognition of the need to expand and enhance the opportunities available to Tobagonians, as they contribute to the continuing protection of Tobago's heritage.
The session which was attended by over 200 young Tobagonians began with presentations of the personal experiences of five Tobago young professionals – Kennethia Douglas, Project Management Specialist, Division of Planning and Development; Farley Augustine, President, Tobago Youth Council; Dr. Nathaniel Duke, Medical Chief of Staff, Tobago Regional Health Authority; Essie Parks, Founding Member, Pink Diamond Society for Ladies Inc.; and Vanessa Boyce, President, Rotaract Club of Tobago.
The young professionals attending the forum raised several issues with regards to opportunities available to young Tobagonians. These included: financial assistance, contractual arrangements and suitable employment; addressing the needs of professionals with disabilities in the job system; creative learning opportunities, international exposure and mentoring; the level of private sector involvement; entrepreneurship; and the disconnect between policy development and implementation.
Several Secretaries of the Tobago House of Assembly responded to the concerns raised by the young people; and outlined the steps taken in each Division to respond to these concerns. Among the steps taken by the various Divisions include the hosting a series of symposia with communities and post-secondary institutions to treat holistically with disability and develop a policy framework; forging greater partnerships with national tertiary level institutions for practical training of students; and internship programmes at the e-IDCOT; the body responsible for the Cove Eco Industrial Business Park.
Besides disclosing the $20 million plan, London in response to the issues raised, indicated the Assembly's willingness and eagerness to listen to the young people and help in providing opportunities for the young people of Tobago. He also indicated that, as follow-up to the Forum, the Assembly will undertake to establish, within the next month, a Young Professional Secretariat, with a view to facilitating employment for young professionals that match their training and skills; and collaborate with the private sector and other institutions, both local and foreign, in establishing an internship programme for young Tobagonians.
The Chief Secretary reiterated his firm commitment to the people of Tobago and especially to the young people, as they seek to participate productively and aggressively in the broader initiative of protecting Tobago's heritage and said it was obvious the Assembly's financial assistance unit had to be reviewed to be reviewed and this would be done within a month to ensure a timely response to applications.
He also announced that there will be a recall session in six months to revaluate and discuss what has been achieved so far.