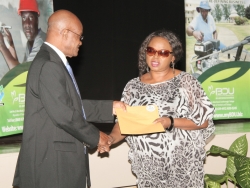 Almost 100 Tobago entrepreneurs benefitted from $1.2 million in grants and small business loans from the Tobago House of Assembly.
Secretary of Finance and Enterprise Development, Dr. Anselm London said: "Tobago being a small island in a small nation in a small region of the world faces serious economic challenges." He told the audience that by Tobagonians using their talent, Tobago could be transformed.   "What you're doing now is a contribution to economic growth in Tobago."  
The Business Development Unit (BDU) of the Division of Finance and Enterprise Development held a forum at the Fairfield Complex where 96 local entrepreneurs received cheques totaling TTD $1.2 million. In May 2011, the THA launched the Enterprise Assistant Grant Programme, an initiative to assist the small enterprise sector in Tobago. To date, approval has been granted to 270 applicants, with over $4.8 million dollars disbursed.
Shelly Ann Baptist, Manager at the Enterprise Assistance Unit (BDU) indicated that the unit was ironing out a system so that grant recipients would not have to wait months for disbursement, after they were approved. She cautioned the need for accountability on behalf of recipients. "We will be following up to ensure that you put the money to good use," she said.
Fellow grant recipient, Asha Mars of Perfect Weddings and Events, encouraged budding entrepreneurs to not listen to negative comments and to apply for the grant because it was available to everyone.
Dr. London said the grant was an engine of new economic growth. The Business Development Unit also has the Enterprise Assistance Fund for loans and has put together a Venture Capital Fund for larger investments.