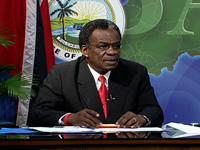 THA Chief Secretary, Mr. Orville London, will host a meeting to discuss the Tobago Economy on Wednesday, 22nd February 2012 at 10.00 a.m. at the Coco Reef Resort.
This closed door meeting will include the following attendees: Minister of Finance, Minister of Trade, Minister of Tourism, Minister of Tobago Development, Minister of Planning and the Economy, Secretary of Finance & Enterprise Development, Secretary of Tourism, and other personnel.
The meeting will be followed by a press briefing in the Conference Room of the Coco Reef Hotel at approximately 12:00 p.m. which the media is invited to cover.