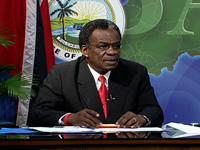 THA Chief Secretary Orville London has extended congratulations to Katzenjammers of Black Rock, Tobago for emerging champion in the Medium Band Category of Saturday night's Panorama finals. He also paid tribute to the other Tobago steel bands that performed in Saturday's nights National Panorama finals at the Queen's Park Savannah, Port of Spain.
London said: "I join with the people of Tobago in saluting Katzenjammers, the Pride of Black Rock, for the band's scintillating performance at last Saturday's Panorama finals, where it emerged as champion in the Medium Band Category. Katzenjammers also took top honours at the THA Pan Champions competition and it is obvious that these successes could not have been achieved without the discipline and dedication of this relatively young group of pannists and the support and guidance of the community stalwarts. I hope that they will now be motivated to greater achievements in the future and I encourage the organisation to continue to implement programmes that would enhance the opportunities available to the members and the rest of the community.
"I also wish to commend the efforts of the highly consistent Buccooneers who placed second in the Medium Band Category and, of course RBC Redemption Sound Setters, Panthers and West Side Symphony who all made it into the National finals. All the other Tobago bands contributed to high quality competitions on the island and no praise can be too high for those hundreds of pannists who invested thousands of hours in their quest, not just for victory, but for excellence," London added.
London said the Tobago House of Assembly will continue to collaborate with the Tobago arm of Pan Trinbago and the members of the local pan fraternity in the further development of the culture on the island.
Katzenjammers scored 288 points while Buccooneers scored 284 points for the second place.