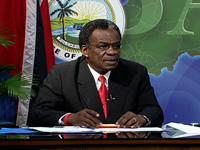 THA Chief Secretary Orville London has expressed condolences to the parents and family of Khadiedra Jack, 22, of Whim, Tobago who died in a vehicular accident in Barataria on Sunday morning.
In his message, London said: "On behalf of my colleagues in the Tobago House of Assembly and all the residents of Tobago, I extend sincerest condolences to Assemblyman Steve Jack on the loss of his daughter, Khadiedra Jack, 22, who died in a vehicular accident last Sunday morning.
"There is little that can be said to Assembly Jack and Khadiedra's mother on the loss of a beautiful and talented daughter whose tremendous potential will never be fulfilled. However, we hope that they will be strengthened by the memories of the past 22 years and the outpouring of empathy and support from the thousands of well-wishers in Tobago and the rest of the country," London stated.
Khadiedra, originally from Milford Court, Bon Accord, Tobago was a passenger in a silver-coloured Honda CRV heading east along the Churchill Roosevelt Highway when the accident occurred. The vehicle was being driven by Dwayne Dopwell, of Whim, Tobago. He suffered a broken arm. TV Channel 5 sports reporter Caston Cupid, 25, was one of two other passengers who escaped injury.