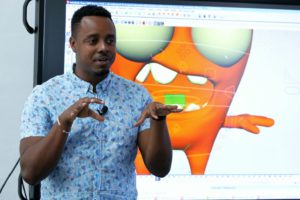 Tobago students are learning about programming and animation. The move is geared towards creating opportunities for the next generation of leaders and boosting technology advancement on the island.
Most recently, the Eco-Industrial Development Company of Tobago, E-IDCOT, and Nerds International Young Innovators partnered on a two-day animation workshop for students ages 12-16, facilitated by Tobago-born Sekani Solomon.
Solomon worked on the opening animation for the record-breaking Black Panther movie
"I'm just happy to be home to be able to pass on some of the things that I have learnt to the younger ones so hopefully they can follow in those footsteps," Solomon said.
Joseph Frederick, the founder and director of Nerds International, said technology has a big impact on the global job market and youth must be prepared for this change.
"…It's our responsibility in our space that Tobago youth are equipped to capitalise on the jobs that will become available," Frederick said.
"We have now moved into a space where I can be in Tobago and work on projects in China, Japan and so on, so we need the youths to get excited about prospects of technology and the impact that it can have on their lives," Frederick said.