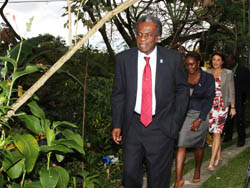 Tobago has taken concrete steps towards safeguarding the environmental value of the oldest nature reserve in the western hemisphere, the Main Ridge Forest Reserve, and ensuring good environmental practices in its transport and tourism sectors.
Under the auspices of the Tobago House of Assembly and with the support of the European Union, Tobago can now boast its first three sites certified according to the requirements of the international environmental standard ISO 14001. The three sites are ANR Robinson International Airport, Adventure Eco-Villas, and the Argyle Waterfall Riverdale Lodge.
The EU provided Tobago with technical and financial assistance of some 100,000 Euros to design and implement the Environmental Management Systems of the three selected sites.
Honourable Chief Secretary, Mr. Orville London, said, "Thanks to the assistance of the EU, and the many dedicated people working at the three sites, Tobago is leading the way in promoting environmentally sustainable tourism as well as safeguarding the responsible growth of our future. We're especially delighted that the ANR Robinson International Airport is the first airport in the Caribbean to receive this certification".
Mr London added: "Every nation blessed with outstanding natural beauty has an extra responsibility to preserve that heritage for generations to come. Tobago is actively working to limit its impact on the environment, and ISO 14001 certification is an invaluable part of that work. We are proud to be taking such an active role in this international initiative, and fully committed to continuing this good work in the future".
Ms Daniela Tramacere, Chargé d'Affaires of the EU Delegation in Trinidad and Tobago explained, "An Environmental Management System is a set of processes and best practices that enable an organisation to reduce its environmental impact while encouraging the improvement of its environmental performance. We are pleased that we could assist Tobago to have the first airport facility in the Caribbean that complies with these international environmental requirements".
Ean McCay from Adventure EcoVillas added, "One of our environmental objectives is to enhance biodiversity by increasing the number of species presently visiting our nature site. We did this by building a rainwater pond large enough to serve as a water source. Since then we have noticed that a number of birds, such as the famous Ruby Topaz hummingbird, are now visiting our site more frequently".