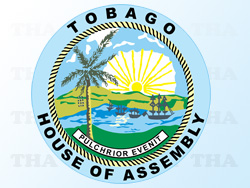 Chief Secretary Orville London has made three changes to his Executive Council as a result of the absence of Roxborough/Delaford West Assemblyman Hilton Sandy.
He will be replaced as Secretary of Infrastructure and Public Utilities by Councillor Gary Melville who has been overseeing his constituency.
Secretary of Settlements and Labour Huey Cadette will replace Melville as Secretary of Education, Youth Affairs and Sport, while Assistant Secretary Councillor Deon Isaac will replace Cadette.
Isaac who is also the Deputy Presiding Officer will be sworn in as Secretary by President Anthony Carmona in Tobago on Thursday. (13th February 2014) The House of Assembly will elect a new Deputy Presiding Office at its next plenary sitting on Thursday February 27 2014.
The changes were announced by London at his weekly media briefing on Wednesday. (5th February 2014)
The Chief Secretary also revealed that Sandy who suffered a stroke on his right side in September will be going to the Baptiste Medical Centre Rehabilitation Unit in South Florida for rehabilitation, assessment and management. London said he was hoping for an improvement in his physical condition. He said the decision to send Sandy to South Florida was on the recommendation of Hospital Medical Director Dr Nathaniel Duke. The Assembly will foot the bill for Sandy's accommodation, rehabilitation and other related issues.
He said Sandy had shown advancement in his physical condition but a lot more improvement had to be made if he was to return to his former condition. He said he was hoping for an improvement in Sandy's condition and wanted to wish him all the best on behalf of all of Tobagonians.