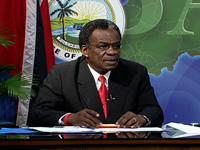 The Tobago House of Assembly (THA) owns 34 estates comprising over 12,000 acres of land in Tobago. This excludes the 6,362 acres that make up forest reserve. The total acreage is 40 per cent of all the land in the island.
This was disclosed by THA Chief Secretary Orville London while addressing a Meet the Communities meeting at the Lambeau Community Centre on Thursday. He said the THA owned a greater percentage of land in Tobago than any other government that owned land in the whole of the Caribbean.
"The land belongs to the THA and therefore it belongs to all of us. I want Lambeau people to understand what they have and therefore have to protect," he added.
London said it was not bush land, but prime property owned by the Assembly. He said his administration alone over the past 10 years would have bought well over 1,200 acres of land comprising eight estates at a cost of over $1B. "It belongs to the Assembly, it belongs to us and therefore we must protect it," he stressed.
The Chief Secretary stated that the conversation going on in Tobago at this time cannot only be about roads, drains and community centres which must be spoken of, but there was a more fundamental conversation that has to go on among Tobagonians.
"You have got to appreciate what we have and understand what we have got to do with it (the land). Land belonging to the State and the Assembly can be given away, not sold to anybody who controls the Assembly. In other words for somebody in Tobago to get one lot of this 12,000 acres you have to make an application and there is a committee of seven public servants and no politicians who have to make a recommendation to me. When I get that recommendation I still cannot give you the land, that now has to go to the executive council where all nine of us have to determine whether that one lot of land has to go to anybody," London said.
London said nobody can walk through his office door and claim that he owed them any favour and therefore can get any favour from him, adding: "One thing is sure, regardless of what they say about Orville London, every lot of the 12,000 acres of land stays in the hands of Orville London."
London asked: "In the present environment are you certain that any other permutation will make those 12,000 acres of land safe."
He asked Tobagonians whether any of them gave thought as to why the government wanted to establish a parallel CEPEP in Tobago instead of putting up something else, attack his administration or take over tourism. He said the answer to this was that CEPEP was about people and it was about employment. "What happens if you employ enough people? What happens to who controls Tobago, what happens to who controls the land," London said.