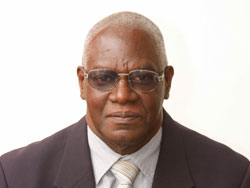 Young Tobagonians are to be offered scholarships in air traffic control to eventually take up positions at the ANR Robinson International Airport control tower that was now being serviced by Piarco controllers.
Tourism and Transport Secretary Oswald Williams disclosed this yesterday. (Wednesday 29th February 2012) He said the Tobago House of Assembly (THA) had accepted the offer made by the Trinidad and Tobago Civil Aviation Authority (TTCAA).
Williams said two scholarships valued at approximately TT$48,000 each will be offered initially from April 30 2012 and a further eight incrementally over the next five years.
In making the offer, the authority's Executive Manager Air Navigation Services Trevor Dowrich told Williams in a letter dated February 8 2012 that the TTCAA had taken note of a policy position of the Government to operate the ANR Robinson International Airport permanently on a 24-hour basis.
Accordingly, he said, the TTCAA wishes to again engage the Assembly in discussions with regard to the training of young Trinidad and Tobago citizens domicile in Tobago, to eventually provide air traffic control services in Tobago.
Dowrich added that it was envisaged that in the long term, there will be a need to train at least ten persons and to balance the experience requirement this can be achieved over five years.
He said the Civil Aviation Training Centre (CATC), which is the training arm of the TTCAA will be conducting a training course in aerodrome/approach control from April 30 to November 16, 2012, while on the job training will be conducted at the ANR Robinson Tower. Dowrich said it was intended that the trained persons will replace the staff provided by the Piarco ATC services to perform these duties at the Robinson tower.