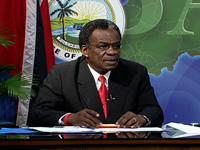 Tobago House of Assembly (THA) Chief Secretary Orville London has agreed to meet Arts and Multiculturalism Minister Winston 'Gypsy' Peters to discuss a second Carnival in Tobago later this year.
The one to one meeting will be held on Monday (March 5 2012) in the Office of the Chief Secretary at the Calder Hall Administrative Complex, Scarborough. Peters communicated with London last week requesting the meeting.
London reiterated yesterday (Tuesday 28th February 2012) that he was willing to sit down and discuss the issue with Peters. However, he added, the Assembly's position has not changed and in fact, based on information that he received since their last meeting the Assembly was even firmer in its conviction that there should be no second Carnival in Tobago.
The THA Chief Secretary said this year Tobago had its biggest Carnival ever, pointing out that there was an increase in the number of mas bands which were extremely larger than previous years; there was an increase in children's bands from 25 in 2011 to 49 in 2012, while there was an increase in the number of steel bands from 11 to 16 this year and an increase in Tobago Calypsonians making the National Semi Finals from 4 to 7. "That speaks volumes for the future of Tobago's Carnival.
He said a lot of people treated Carnival in Tobago as if it was an after-thought and it was very patronising how they treated the Carnival not recognising that on a per capita basis Tobago's Carnival compared favourably to that of Trinidad.
He pointed out that in a population of 55,000 people which was one-twenty-fourth of the country there were 16 steel bands; to do that on a per capita basis in Trinidad there ought to be 400. He added that if one was to look at the number of calypsonians qualifying for the national semi finals and the number of steel bands that qualified for the Panorama finals, on a per capita Tobago did very well.
London said it could be that over 5,000 persons participated in the Tobago Carnival, making it one in every ten persons."I want us to recognise that Carnival in Tobago is an event, it is not a side show for what is happening in Trinidad, it is an event in itself, it is a spectacle in itself and therefore it is something that has to be treated as such especially when one plans going forward," he said.