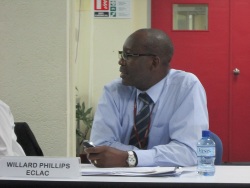 The Tobago History Month series will continue with feature speaker environmental economist Willard Phillips. Phillips will discuss with Tobagonians "Improving Economic Benefits Through Good Environmental Practice: A Sustainable Development Challenge", on Thursday, 27 October 2011, at the Division of Infrastructure and Public Utilities Lecture Room, from 7.00 pm.
Phillips' professional experience spans more than two decades. He has served at national and international organisations in Central America and the Caribbean.
In September 2009, he became an Economic Affairs Officer in the United Nation's Economic Commission for Latin America and the Caribbean Sub-regional Office in Trinidad and Tobago. But for the past seven years, he has been researching the subject of environmental and natural resource issues both in the US and in the Caribbean. The focus of the study has been on natural resource valuation and policy.
Phillips' is also involved in research on sustainable development and macro-economic issues in the Region.
He holds a B.Sc. in Agriculture from the University of the West Indies and an MSc. in Agricultural Economics with specialization in Agricultural Marketing from the University of Guelph in Ontario Canada. He is also the holder of an MSc in Environmental Economics from the University of Georgia, and has completed coursework towards a Ph.D. in Environmental and Natural Resource Economics.
This is the second presenter in the Tobago History Month series. Last week, Dr Learie Luke launched off with "Thirty Years of Revolutionary Change" – The Contribution and Impact of the Tobago House of Assembly, 1980 – 2010.
Tobago History Month is part of the series of events being held by the Tobago House of Assembly, as it celebrates its 30th anniversary.