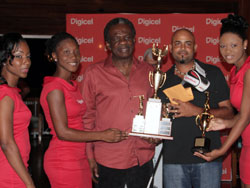 The lone female competitor in the 2011 THA Chief Secretary's Charity Golf Tournament , Emile Ramsahoye came closest to winning the grand prize of a BMW. But William Shaw was declared overall winner after three days of competition. Shaw amassed a score of 149 to triumph over competitors from as far as St. Kitts, Jamaica and Barbados.
Despite inclement weather, THA Chief Secretary Orville London and organiser Jeffrey Azar declared the tournament the best ever. Sporting celebrities, such as, former West Indies Cricket team wicket keepers Derek Murray and Jeffrey Dujon and opening batsman Gordon Greenidge were among the many participants.
Speaking at the prize giving ceremony on Sunday, (15 October, 2011) London said: "We in the THA are very happy to be associated with this event, because it is an event that has a lot of potential in relationship to sports tourism, in relationship to further popularising Tobago as a golf destination and Tobago of course, as a beautiful place." He told the golfers that the tourism sector is competitive, volatile and dynamic and so the THA would do anything to diversify its plan and strategy.
"If you don't adjust, you will not survive", London said. He added: "I am not doing that because I am generous or altruistic. I am doing this out of pure self interest. This tournament has a lot of potential for Tobago and we are going to do everything that we could to ensure that this tournament maximises its potential."
Additionally, he said the THA was pleased to be associated with the tournament because it provided an opportunity for partnering with the organisers and other sponsors to bring relief to the needy. The tournament's motto is "with every stroke we help our folk." Last year, (2010), $39,000 was donated to a needy cause in Tobago.
Commending Azar for a job well done, he noted that the THA's investment in the tournament had been paid many times over and the potential for additional repayment was there. With this said London gladly committed to further THA sponsorship, to the tournament in 2012.
According to General Manager of St Andrew's Golf Club Neil Guiseppi, the tournament has become a very important tournament on the Trinidad and Tobago golfing calendar. He said: "I think the standard that it has set has placed it with the best." Guiseppi told London: "I think that you and certainly the members of the Tobago House of Assembly need to be commended for understanding the significance of a tournament like this to the development of golf in Trinidad and Tobago."