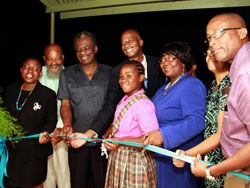 Residents of Golden Lane will no longer have to trek to Les Coteaux, Moriah or Plymouth to access healthcare at health centres in those villages.
A new outreach centre providing this service was officially opened on Tuesday night on the ground floor of the Golden Lane Community Centre. At the opening ceremony new Health and Social Services Secretary Claudia Groome-Duke announced that men's healthcare that will promote fitness and wellness was being introduced at the centre. She added that the centre was an offshoot of the Les Coteaux Health Centre in the neighbouring village.
The health secretary stressed that the objective of the centre was to continue to stem the tide of an epidemic that was taking over Tobago in the form of heart disease, cancers, diabetes and stroke, which accounted for 60 per cent of all deaths. She said the service will not only include screening for these infectious diseases but the other range of healthcare services.
The centre will provide services on Tuesdays and Fridays but pleas were made at the ceremony by village council president Alexander Belfour for an additional two days.
In giving a history of the centre's establishment, Tobago Regional Health Authority (TRHA) acting CEO Paul Taylor said it was on the initiatives of Belfour in 2009 and 2010 that the authority took the bold step. He said it took $100,000 to develop the infrastructure and equip the centre.
Newly appointed TRH chairman Jennifer Fabian-Browne noted that the centre was the 22ndcommunity health facility in Tobago and said the TRHA was committed to a fruitful contribution to healthcare in Golden Lane. Area Representative Godwin Adams described the occasion as a landmark project for his constituency.
In delivering the feature address THA Chief Secretary Orville London noted that there were 2,400 per head of population for each health facility in the island as against 17,000 in Trinidad and urged Tobagonians to protect what they have or else somebody will deprive them of it.
He said a legal impediment in the High Court was holding up the completion of the sale of the nearby 148-acre Culloden Estate. He explained that the Assembly had made a down payment of $1.9 million to First Citizens to purchase the estate and the remainder was in the bank to be paid as soon as the legal hurdle was overcome. He said the land will be utilised to regularise the existing residents, agriculture, provide an eco tourism plant and recreational facilities among other things. He disclosed that the Culloden Fishing Centre would be opened at the end of January.
He said at least two agricultural access roads will be upgraded in Golden Lane shortly. "We are responding to your needs and concerns and the time will come for you to respond to your needs," London said.