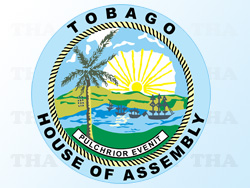 The Tobago House of Assembly (THA) has given the assurance that URP and CEPEP will continue despite the lack of funding from the Central Government for the two social programmes in Tobago.
Chief Secretary Orville London said URP will be maintained at its same level as in previous years, while CEPEP will not only be enhanced and expanded but a larger cadre of persons will be employed in fiscal 2012.
He said there is going to be funding provided for housing opportunities at Adventure and 350 housing lots to be made available at Courland and Belle Garden.
He added that funding will be made available for all major projects including the Financial Complex, the Library and the Shaw Park Cultural Complex, which need an estimated $264 million to be completed and outfitted. These projects will be delivered next year.
London was speaking following an all day meeting of the THA Executive Council to discuss Tobago's $2.1 billion allocation by parliament. He said the programmes will be financed by the parliamentary allocation and Assembly savings.
He said the Assembly will ensure that there is funding available for human resource development and in fact had increased it, recognising how important it is for Tobagonians to continue to be prepared to take advantage of some of the opportunities and challenges they are likely to face in the ensuing year. He said the Assembly will also launch a young professionals' programme to provide training, employment opportunities, cadetship, mentorship and special assignments. Nurses who are currently being trained will also be absorbed in the programme.
He said an executive council decision to continue benchmarking contract positions in the THA to positions in the public service will be formalised, resulting in an increase in the remuneration packages of the vast majority of its thousands of contract workers at a cost of between $40 million and $50 million. "Hopefully that will bring some relief to the contract officers who I think were becoming quite concerned as to whether they will continue to be benchmarked with public servants," London added.
Other programmes to be carried out in fiscal 2011are: An 80 per cent increase in the tourism marketing plan from $60 million to $100 million; a continuation of the "Go Go" initiative to attract British visitors to Tobago; construction of play parks in ten communities; $29 million for agricultural access roads; refurbishment and lighting of hard courts and recreation grounds; construction of mini malls at Plymouth, Argygle, Calder Hall and Signal Hill; continuation of the home improvement grant and subsidy and continuing of the road surfacing programme.