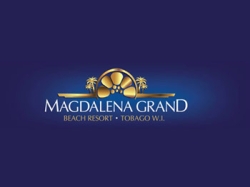 The Magdalena Grand Resort and Spa, formerly the Vanguard Hotel and Hilton Tobago will reopen its rooms for business on Wednesday, (November 30 2011) Tourism Minister Dr Rupert Griffith disclosed on Monday.
Speaking at a media briefing at the end of the monthly meeting of the Standing Committee on Tourism in Tobago he stated that the hotel will have 50 high end rooms available from that date and the remaining 150 by December 9. He recalled that this assurance was given to him by the management of the hotel during a visit to the plant earlier in the day.
Griffith said Virgin Atlantic Airlines had expressed concern that the hotel refurbishment would not have been completed in time for the arrival of its second weekly flight from London on December 12. He said the airline had hinged this second flight on the availability of the rooms.
He said a tripartite committee of representatives of the Tourism Development Company, THA Division of Tourism and hoteliers had been appointed to determine how the room upgrade grants and the loan guarantee programme in the $100 million Tourism Development Fund can be accessed by hoteliers and guesthouse owners.
THA Secretary of Tourism and Transportation Oswald Williams disclosed that once more Coco Reef Resort and Spa had won the Best Caribbean Hotel Award at the recent World Travel Market in London.
He also announced that the "Go Go" initiative introduced last year to attract British visitors to the island by offering them a £100 rebate on tickets bought by the end of February for travel by the end of December will continue.
He said the cruise ship season had opened and it was expected that there would be some 52 calls by ships at Scarborough and Charlotteville with a total capacity of over 50,000 by the time the season ends in April.