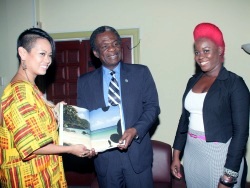 Project Runway winner Anya Ayoung Chee had a busy day in Tobago on Monday meeting with THA Chief Secretary Orville London and students of the Goodwood High School in east Tobago. She later met with members of a tripartite committee comprising the Tourism Ministry, THA Tourism Division and hoteliers to discuss the tourism marketing plans for the country.
Anya told reporters at the office of the Chief Secretary that she was very much inspired by Tobago's sand, sea and culture and whenever she visited she did not want to leave. So much was her love for the island that she named her winning design "Tobago Love". She was even taught to sew Tobagonian Daylia Alleyne, who accompanied her on the visit.
Anya's stop at Goodwood High gave the students an opportunity to display their modelling skills to fellow students and the visitors.
She said she was particularly encouraged by the Chief Secretary's support to develop the island's fashion industry. London said: "We were particularly pleased when she labelled her final presentation "Tobago Love" and that might have been the clincher."
Tourism Minister Dr Rupert Griffith who chaired the tourism marketing committee meeting told reporters later that Anya was very enthusiastic about her plans and will meet with the committee in a week's time to flesh them out.