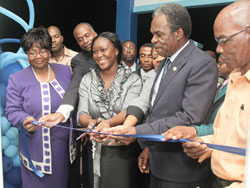 A multi million dollar state of the art health integrated complex, the first of its kind in the country was commissioned at Charlotteville in east Tobago on Wednesday. Two new ambulances were also commissioned for use by the Tobago Emergency Medical Services.
Besides the normal facilities offered at a health centre, the complex has 5,000 square feet of office space on the first floor for staff of the Immigration Division, Customs and Excise Division, Tobago Emergency Management Agency (TEMA) and the Public Health Department.
In commissioning the complex THA Chief Secretary Orville London challenged members of the large audience that if they found a similar facility anywhere in the nation and the Caribbean to take a photograph of it and send it to him.
He noted that the centre brought to 22 the number of health facilities outside of the Scarborough General Hospital and urged villagers to make use of it as a means of sickness prevention, since the hospital was to cure patients who were sick. He added that while there was one health facility for 17,000 persons in Trinidad that ratio was one for 2,400 in Tobago.
London also appealed to Tobagonians to protect what they have since no one else would do it for them and pledged his administration's continued commitment to provide better facilities for them.
In giving a brief history of the project, acting CEO of the TRHA Paul Taylor said work at the site started in April 2007 and as a result of project management and engineering issues, the complex was only completed and occupied last August. He put the cost of the structure at $17.4 million and said the health centre contained the most modern equipment.
Secretary of Health and Social Services Claudia Groome-Duke her Division's vision for Tobago was to provide equity in healthcare and was working towards stemming the tide of the high percentage of chronic diseases in the island. She said the new centre will provide among other things emergency medical services, immunisation, childcare abuse treatment, screening of chronic diseases and provision for men's healthcare.
Area Representative Tracy Davidson-Celestine noted that the complex was constructed to meet the needs and well-being of Charlotteville villagers and the administration would stop at nothing to develop their space.
Welfare Officer of the Charlotteville Village Council Cotterill Perry said the council was committed to ensuring that the best possible healthcare service was provided to the villagers of Charlotteville.