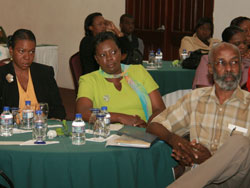 The public service culture needs to change as it's critical to Tobago's development.
This came from Chief Secretary Orville London as the Tobago House of Assembly launched a Human Resource Forum to streamline the human resource functions of the divisions.
He said that the human resources team was "prepared to take a professional, collaborative, inclusive approach to what I consider to be one of the most critical aspects of development in the island of Tobago."
Mr. London stressed the importance of Human Resources, saying that the foundation for the development of any country lies within Human Resources. He then compared the public service to the private sector. He said that the public service manages more resources, interacts with more people, and affects more lives than any private sector organization.
He cautioned that Human Resources needed to improve certain conditions, such as a public culture that often "does not reward excellence" and "sanction incompetence."
He indicated that Human Resources needed to work more effectively, and he expressed hope that synergy would be developed into meaningful collaboration.
Dr. Ellis Burris, Chief Administrator, THA, said that the new possibilities of Human Resources is to help create a system that values people.
These premises were highlighted during the forum when Dr. Burris unveiled Casey Daniel's winning HR Forum logo, which depicted a handshake, along with the words: Achieving Excellence, Improving Systems, and Valuing People.
Mr. London said that there was a need for pragmatism, and that he hoped participants would use the information learned during the Forum to treat the issues relevant to their organizations.
"HR must be geared to, how can we satisfy more people effectively? And show people that we are responding to them."