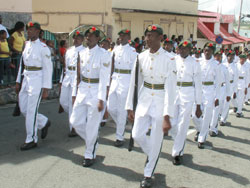 The Remembrance Day Parade and Ceremony was held on Sunday 13th November in Scarborough, also honouring the island's two surviving World War II Veterans.
Comrade Josey Eastman, 88, and Comrade Michael A. Hector, 90, attended the event at James Park with their families, as the young and old honoured their contributions at wartime to Trinidad and Tobago.
The event began at 10:00 in the morning with the posting of Sentries and Standard Bearer at Cenotaph, and the positioning of Members of Legion. The Remembrance Day Parade then shouldered and presented arms, and the Sentries at the Cenotaph rested on their Arms Reversed. The first gun was fired, and was followed by two minutes of silence.
The Drummers of the Trinidad and Tobago Defense Force sounded the last post after the second Gun was fired. After the Parade was ordered to stand at ease, prayer was said, followed by an Act of Remembrance by Members of Ex-Services League.
The poppy flower was pinned to the clothing of Mr. Eastman and Mr. Hector, as well as on the hats and uniforms of many members of the Parade, and other attendees. The poppy flower is used as a symbol in remembrance of those soldiers who died during the war.
The Chief Secretary placed the first wreath, which was shaped like a poppy flower, in symbolism of the fallen soldiers. He was then followed by several organizations, including the Trinidad and Tobago Defence Force, Trinidad and Tobago Coast Guards, the Girls Guide Association of Trinidad and Tobago, and the Boys Brigade.