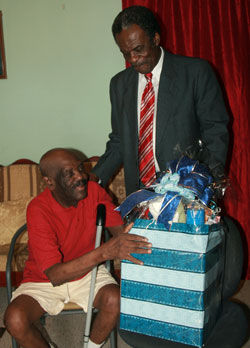 The Chief Secretary of the Tobago House of Assembly, the Honourable Orville London, presented hampers to the two surviving World War II Veterans in Tobago, Comrade Josey Eastman and Comrade Michael A. Hector on November 10, 2011.
Born November 15, 1923, Comrade Eastman said that he was happy that he had traveled to so many places during the Second World War, and arrived back at his hometown of Castara. Comrade Eastman was a member of the Southern Caribbean Forces Unit, and served in the Caribbean, Egypt, Jerusalem, and Italy.
Comrade Hector was stationed in Trinidad and said his war experience, "was one where if you were to make a mistake, you paid the penalty for it."
The Chief Secretary shared a laugh with the ninety-year-old Veteran when he said: "Your face looks fresh." He shook the Veteran's hand and said, "Congratulations, you did well." He told him of his earlier visit to Comrade Eastman, before presenting him with a beautifully wrapped hamper.
"This is a token of appreciation for all you have done for Tobago," said the Chief Secretary.
The Remembrance Day Ceremony will be held at James Park in Scarborough on Sunday, November 13, 2011 in honor of the two surviving Veterans.