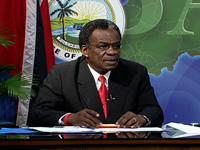 THA Chief Secretary Orville London has said his administration has done a lot to enhance the physical environment of Tobago.
He added: "When one looks at the physical infrastructure in Tobago in 2011, not comparing it with the turn of the century, but comparing it with the physical infrastructure of any island in the Caribbean you will understand that we have not only come a long way but in many ways we are a long way ahead of many of our Caribbean neighbours. You can look at any indicator of development in the region and you will see that."
The Tobago Chief Secretary was delivering the feature address on "Economic Growth and Tobago's Heritage" at the opening of the Fifth Business Outlook Conference at the Mt Irvine Bay Hotel on Tuesday. The conference was hosted by the Business Development Unit of the Division of Finance and Enterprise Development.
He recalled that over the years previous efforts were made to create an environment where people can be better prepared to take advantage of their heritage but in the final analysis it was about preparation and preparation was about mindset.
He said: "We in the Tobago House of Assembly intends to take very seriously the two aspects of development, identifying what is Tobago's heritage, and we are going ahead with full speed on this whole question of what is Tobago, Tobagonians must know what is Tobago, take pride in what is Tobago and be prepared to defend what is Tobago, there can be no compromise about that."
London asked: "How do we involve all the people in this development process, how do we develop all the people in this heritage place. I am saying that it has to do with the past, it has to do with the present, in other words reminding people of what Tobago is all about but also we do the introspection so that each of us can in fact make the adjustment so that all sectors will feel a part of the process."
He said this was a Tobago thing, it was a Trinidad thing, it was a Trinidad and Tobago thing, it was a "we thing but it is also about survival because if we don't do it right especially in relationship to the problems facing us we are likely to have serious challenges".
London admitted that he was concerned about the present but hopeful of the future and stressed that he believed that "we have the capacity; I believe that we have the commitment and I believe that the process has started and this is all part of the process".
Earlier, London reiterated his stance on the size of Tobago. He said Tobago's physical heritage was extensive and over the years based on precedent, based on practise and even based on law, Tobago's land heritage was determined in the narrowest possible way, defined as six nautical miles around Tobago. "What that in effect does it places us in the position where Tobago's potential and in fact Tobago's contribution to the country of Trinidad and Tobago is determined by what happens in that landmass. The reality is that when one looks at the country of Trinidad and Tobago and define it according to international law and one sees what Tobago brings to the country of Trinidad and Tobago and you take away what Trinidad brings and you do the arithmetic you recognise that Tobago is in effect bigger than Trinidad due to international law.
The one-day conference followed a one-day youth business forum at the same venue. Outstanding awards are also to be presented by the Division.