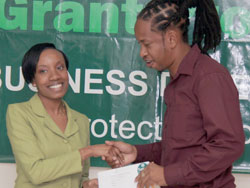 Rapid Response Security Service of Mt Marie, Scarborough copped Tobago's top business award on Wednesday night. Eight other awards were presented at a function organised by the Business Development Unit (BDU) of the Division of Finance and Enterprise Development.
The awardees are Garment Manufacturing sponsored by Republic Bank – Cut 2 Fit; Service sponsored by First Citizens – Trico Industries Ltd; Agri Business sponsored by the Agricultural Development Bank – Rabbitry Ltd; The Arts sponsored by RBC Royal Bank – Anthea's Treasure Trove; Most Innovative/Outstanding Business sponsored by e-Teck – Anthea's Treasure Trove; Special Award – Vision sponsored by Welsh Morris and Associated – Rapid Response Security Services; Most Promising Enterprise: Food and Beverage sponsored by Trinre – Brebb's Bakery; Entrepreneur of the Year sponsored by the Secretary of Finance and Enterprise Development – Melfour Security; the Chief Secretary Award sponsored by the Office of the Chief Secretary – Rapid Response Security Service.
Delivering the feature address at the awards function at the Mt Irvine Bay Hotel, Chief Secretary Orville London urged the awardees to continue to provide their excellent service to the community. He said what his administration was trying to do was to change the mindset, to change the paradigm of Tobagonians.
London said members of the Assembly have recognised the importance of partnering, adding that they did not have a problem with Tobagonians partnering with Trinidad, the region and the rest of the world but Tobagonians must say "hey, we must also benefit from this".
He added that Tobagonians must start thinking outside of the box because a number of traditional areas have gotten crowded.
London welcomed the efforts of the Finance Division to create entrepreneurship with its financial assistance loans and grants and said the Assembly will also provide the training and skills necessary. He added that Tobago was brim filled with opportunities and Tobagonians should seize these opportunities and maximise them. However, he said: "We have got to look at new ways of doing things. There is no reason why because we are living in a small island we must be small minded. We have got to change our mindset."
London urged the women of Tobago to go to the head of the class and take grasp of the entrepreneurial opportunities available.
He said if things go as they should Tobago was going to be the envy of other islands. "If Tobago gets what it is entitled to what it deserves, Tobago will be a different place," London said.